On July 30, RENGO held a symposium on possible responses to the pension system reform at ZENDENTSU KAIKAN Hall with 460 people in attendance. The Ministry of Health, Labour and Welfare announced its "Direction on Pension Reform Outline and Points of Contention" in December last year, and currently a study is under way for 2004 Fiscal Year Pension System Reform at that Ministry's Social Security Council/ Pension Subcommittee. At the symposium, the Ministry explained the contents of the reform outlined in its "Direction and Points" followed by an exchange of opinions on topics including pension system structure, provision levels and burdens, and how to deal with job diversity. RENGO also introduced its basic policy on pension system reform to solicit understanding.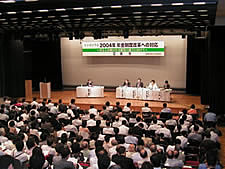 Photo: The conference was packed with more participants than expected.

RENGO General Secretary Kusano gave a speech on behalf of the organizers emphasizing that "the biggest issue for 2004FY pension system reform is resolving people's distrust of pensions." To dispel that distrust, he suggested that the following items are necessary: [1] effect a raise in government liability for basic pensions to one half, [2] clarify what direction the government will take to resolve erosion of the National Pension (basic pension), and [3] make it clear that pension benefit levels will be maintained at current levels through a combination of benefits from basic (Level 1) and employee (Level 2) pensions.

He frowned upon the introduction of "fixed pension premiums" supported by the Ministry since it would lower benefit levels: "not only will they be unable to fulfill the main role of security of post-retirement life, but they may lead to further deterioration of younger people's distrust of the pension system." He wanted to the audience to understand the main points of reform that RENGO is seeking, pointing out that "the pension system structure should maintain the bi-level model of the basic pension (Level 1) and a remuneration based portion (Level 2)" further, "expanding employee pension coverage to include part-time workers is also a crucial topic."

Afterwards, a panel discussion was held with the following panelists: Democratic Party of Japan, House of Councilors member Takashi Yamamoto, Health, Labour & Welfare Ministry, Pension Bureau Director General Tamiki Yoshitake, Ministry of Public Management, Home Affairs, Posts and Telecommunications, Local Finance Council member Yoko Kimura, RENGO Welfare Policy Division Director Shigeru Kojima, and Toyo University Dept. of Social Economic Systems Associate Professor Kohei Komamura (Coordinator).

The panel exchanged opinions on how the structure of the system and methods of finance should function, whether by taxes, proportional income?social insurance, etc. They also discussed whether benefit levels would be maintained at current levels and what we thought about fixed pension premiums, which the HLW Ministry is proposing. Other opinions raised on the debate floor included: someone who urged the Pension Subcommittee to consider the restaurant industry and another seeking concrete plans to resolve women's and pension issues.

Finally, Associate Professor Komamura raised the four following important future issues before closing the symposium. [1] Hold basic discussions in order to clarify what should be done with the pension system's structure. [2] The Ministry of Health, Labour and Welfare will continue to offer easy-to-understand lectures on the reform contents. [3] Do not discuss pensions, medical care, nursing care, or welfare benefits for the needy piecemeal but rather discuss social security as a whole. [4] An aging society does not guarantee disruption of the pension system. We must consider pension system reform with cooperation from all generations.