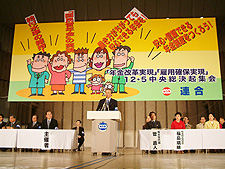 Photo: Click for video (no sound)

On December 5, more than 4,000 people from affiliated organizations, local RENGO representatives, TAISHOKUSHA-RENGO (Japan Federation of Senior Citizens and Retired Citizens Organization) and other organizations gathered to hold the 12.5 Central Action to Realize Pension Reform. RENGO widely appealed for the realization of a safe and reliable pension reform by conducting various actions including, ËThe PeopleÁs Forum for Pension ReformÓ represented by participants from every level of society and political party; demand activities to ruling and opposition parties as well as to ministries and agencies; the ËCentral Pep Rally to Realize Pension Reform/Save JobsÓ and marching parades at Ginza/Tokyo Station.


Representatives from all levels of society and from every political party participate in "The People's Forum for Pension Reform"
"The Peoples' Forum for Pension Reform" was held to conduct a national debate tapping into a wide range of opinions from all walks of life, and see that those concerns are reflected in the government's pension reform draft to be released at the end of this December. The forum took place at "Ginza Gas Hall" from 1pm to 5:30pm, with more than 600 participants representing affiliated union members as well as the retired, women, disabled, mass media, and the general public.

In the first part of the forum, called "Calls from Each Walk of Life," various viewpoints were heard on the Ministry of Health, Labour and Welfare's recently released draft, including those of the retired, active workers, women, youth/students, part-time workers, jobless, disabled, and self-employed who sent their demands regarding pension reform to the government/political parties.

In the second part of the forum, called "Question Pension Reform Drafts of Each Political Parties/the Ministry of Health, Labour and Welfare," General Secretary Kusano presented a keynote report in which he stated, "in order to resolve the people's distrust of pensions, it is necessary to conduct: prompt implementation of a raise in the state's contribution toward basic pensions to one half; measures to stop the decline of the system; maintenance of benefit levels, and so forth."

Following that, a panel discussion was conducted, with representatives from political parties such as Takashi Yamamoto, House of Councillors member of Democratic Party of Japan, Keigo Masuya, House of Representatives member of New Komeito Party, Tomoko Abe, House of Representatives member of Social Democratic Party, as panelists, and Saitama Prefectural University Health and Welfare School Professor Goh Miyatake as a moderator. The discussion covered such topics as the pension system, a timetable for implementing state liability of basic pension to one half and where the money would come from, pension benefits and the people's share, issues of part-time workers applying for pension coverage, and issues regarding women and pensions.


Demand Activities on Political Parties and Ministries and Agencies
In the afternoon, local RENGO representatives and others conducted RENGO high-priority demands for:
[1] An immediate raise in the government's liability for basic pensions to one half. [2] The introduction of taxes to resolve the draining of the [pension] system. [3] The maintenance of benefit levels. [4] Extension of eligibility for application to the pension system for part-time workers and others. The object of the demands included the following parties and ministries: the Liberal Democratic Party (Policy Research Council Vice Chairman Jin-en Nagase), the Democratic Party of Japan (Secretary General for the DPJ Caucus at the House of Councillors Takashi Yamamoto), the New Komeito Party (Policy Research Council Chairman Kazuo Kitagawa), the Social Democratic Party (Leader Mizuho Fukushima), the Ministry of Health, Labour and Welfare (Pension Bureau Director-General Tamiki Yoshitake), and the Ministry of Finance (Director for Budget Bureau Jun-ichi Fukuda).

RENGO served demands for pension reform along with budget compilation matters to Prime Minister Koizumi on December 3.


"Bring About Pension Reform" "Save Jobs" 12/5 Central Pep Rally
RENGO President Sasamori gave a speech before 3,500 participants at the central pep rally saying "the government is going to decrease pension benefits and dispose of a proposed increase of state liability in basic pensions to one half. We can no longer bear being forced to pay the price of misgovernment."

President Kan of the Democratic Party of Japan stated that "the DPJ is proposing a pension system which will be safe even one hundred years from now. On the contrary, the government/ruling parties are opposed to each other in discussions, and the Liberal Democratic Party has not even shown a long-term reform draft." Social Democratic Party leader Fukushima also showed up at the rally.

Afterwards, rally attendees marched in a parade for the Ginza/Tokyo Station area.