RENGO Updates
Last Updated: 07 Apr. 2014
07 April 2014
Burma Office Japan closed
On 31st of March 2014, Burma Office Japan (BOJ) soundly fulfilled its role and closed.
more
04 April 2014
JTUC-RENGO takes part in a kick-off event for a new Fun to Share campaign on climate change
On March 26, 2014, to coincide with the thirty-eighth session of the IPCC that was being held in Yokohama, the Japanese government launched a new campaign on climate change under the slogan "Fun to Share." This was intended to be the successor to a previous campaign, "The National Movement to Stop Global Warming," so that Japan would continue to be a front-runner in tackling climate change. It is an initiative that aims to create a low carbon society by national and local governments, industrial labor and management, local society and individual Japanese working together and sharing information/technology/knowledge that will lead to the creation of a stable low carbon society. The intention is to spread the movement like a chain reaction so that "innovations in our lifestyles" can spring from Japan and move worldwide.
more
06 December 2013
Message by RENGO President on Passing of Former South African President Nelson Mandela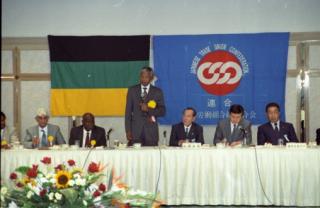 On 6 December 2013, Former South African President Nelson Mandela, the greatest and most courageous leader of the modern times, passed away. RENGO, representing its 6.75 million members and all working men and women in Japan, extends our deepest condolences to Nelson Mandela's family and the South African people.
more
What's RENGO?

| | |
| --- | --- |
| | RENGO is the largest trade union national center in Japan with 6.8 million membership. |

moreinfoAbout RENGO
18th ICFTU World Congress