JTUC-RENGO made a request to the Ministry of Foreign Affairs regarding Russia's military aggression in Ukraine
- Japanese Government should play a diplomatic role in defusing the situation-
11 March 2022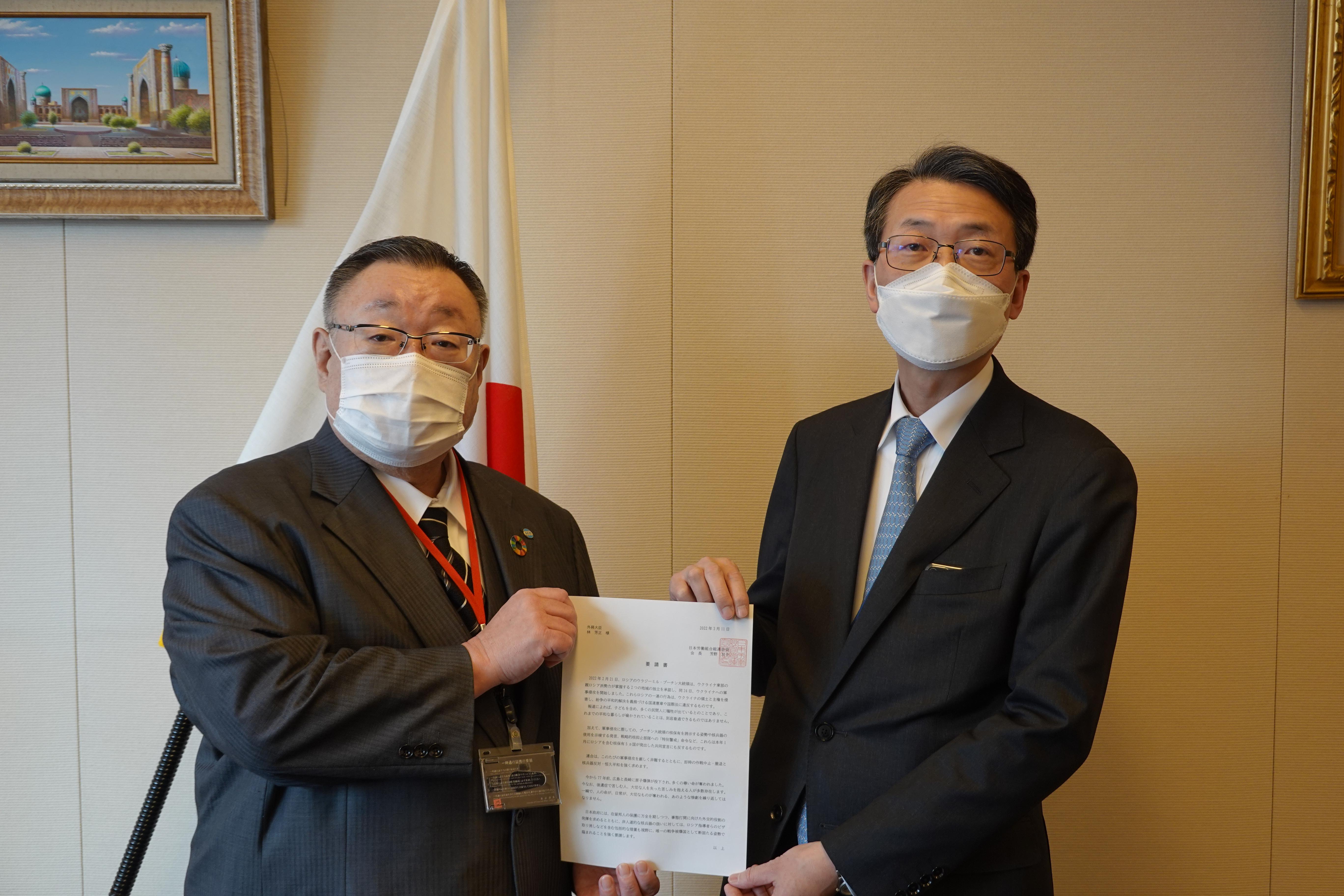 Handing over the written request to the MOFA
JTUC-RENGO requested the Ministry of Foreign Affairs of Japan (MOFA) on 11 March 2022 regarding Russia's military aggression against Ukraine.
At the outset, JTUC-RENGO General Secretary Hideyuki Shimizu stated that "Russia's series of acts violate Ukraine's territory and sovereignty, violates the UN Charter and international law, which mandate peaceful settlement of conflicts, and the fact that many civilians, including children, have been killed is unacceptable. Furthermore, we, as a citizen of the only atom-bombed country, strongly resent President Putin's attitude and statements that flaunting possession of nuclear weapons and hinting the use of it at the time of the military invasion. We request the Japanese Government to take a decisive stance and play a more diplomatic role in order to resolve the situation" and handed over the written request.
In response, the Director-General, European Affairs Bureau of MOFA Uyama, who received the letter of request in the name of Foreign Minister Yoshimasa Hayashi, stated that MOFA's perception was exactly the same as that of the JTUC-RENGO, and made the following comments (abstract).
Russia's aggression against Ukraine is a clear violation of international law and the use of force prohibited by the UN Charter, which we strongly condemn. It is extremely painful to see the devastation in Ukraine.
Currently, under the leadership of the Prime Minister and the Foreign Minister, and in cooperation with the G7 and the rest of the international community, we are all promoting initiatives such as emergency financial assistance and emergency humanitarian aid to Ukraine, which will be the amount of around USD 100 million.
Strong sanctions have been imposed on Russia in rapid succession and have been effective, including financial sanctions such as freezing the assets of Russian banks and banning the circulation of sovereign bonds, export controls including a ban on exports to military-related entities and general-purpose goods that may contribute to strengthening military capabilities, etc., and an asset freeze and suspension of visa issuance for Russian government officials and other related persons and organisations.
For the protection of Japanese nationals, given the situation, the local Japanese embassy has been in contact with all Japanese residents in Ukraine since late January 2022, urging them to evacuate the country as soon as possible. Many have left the country, but contact is still being maintained with those who remain in Ukraine.
At present, the number of displaced persons from Ukraine to the rest of the country is approximately 2.32 million. The Government of Japan is taking a policy of accepting as many people as possible who wish to seek refuge in Japan from a humanitarian perspective, giving priority to relatives and acquaintances of Ukrainians living in Japan. We would be grateful for your cooperation in accepting evacuees.
MOFA would like to firmly stand in solidarity with Ukraine and firmly confront Russia.
We, JTUC-RENGO, will continue to develop our efforts for a peaceful and stable world without nuclear weapons.
Request Letter to Minister for Foreign Affairs from JTUC-RENGO
<
RENGO special website on 'Action against Russia's military aggression against Ukraine'
>(Japanese Only)